RootsMagic version 6.3.2.0 and later supports the direct import of project databases from The Master Genealogist. These programs have many similarities and, of course, many differences. They both support witness tags/shared events, sentence templates for facts, footnotes and bibliography and text formatting but names of variables, syntax, codes and database structure differ. Not all can be converted: some codes are stripped and others pass through verbatim. This page offers two resources to help in the resolution of some of the differences in codes between the TMG database and the resulting RootsMagic database.
TMG-RootsMagic Sentence Variables & Format Codes
This document attempts to provide a cross-reference to help in the transition of a TMG database to RootsMagic. The TMG emigre will almost certainly need to edit the imported database or the original to achieve the most complete transfer of data and the cleanest reports and other outputs. Having a cross-reference between their codes with an explanation of their functional similarities and differences should help.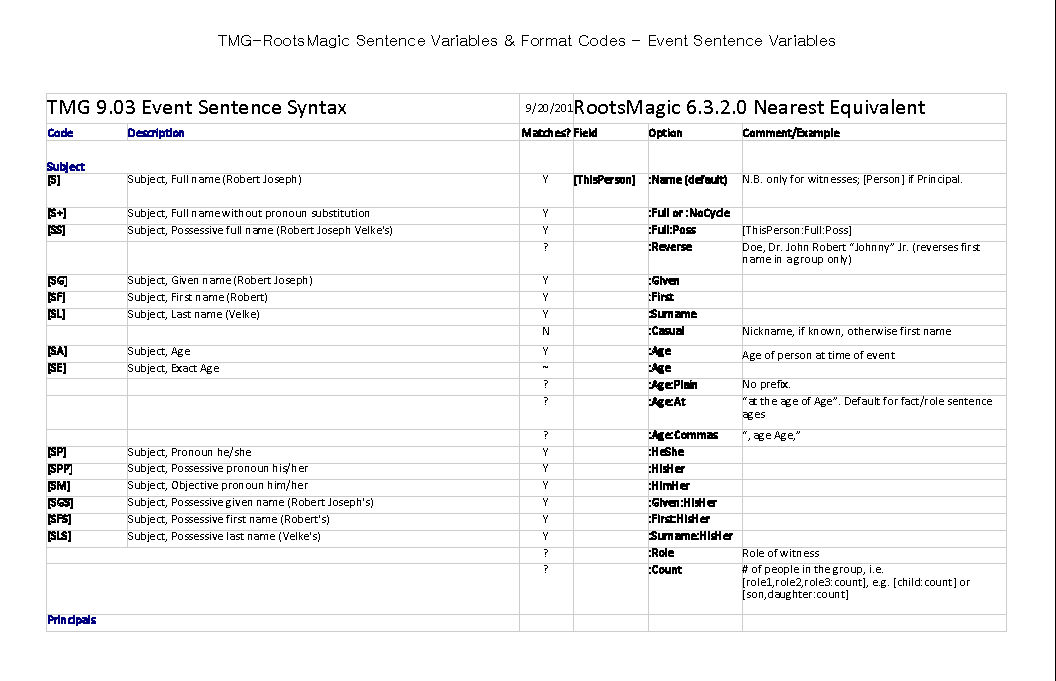 Screenshot of 1 of 17 pages.
Download 1
TMG-RootsMagic Sentence Variables & Format Codes (PDF)
Finding Extant TMG Codes
The following query finds those fields in the imported RootsMagic database that still have embedded TMG codes. A power SQLite user might go on to edit the database using a SQLite manager. A normal RootsMagic user can inspect the results for the passed through codes and use the key characteristics in a RootsMagic Search tool to find them. With the help of the above cross-reference and other yet-to-be-devised resources, either can determine whether action is best taken in the original TMG file and re-import or modify the RootsMagic data. It also may reveal a bug worth reporting to RootsMagic Technical Support.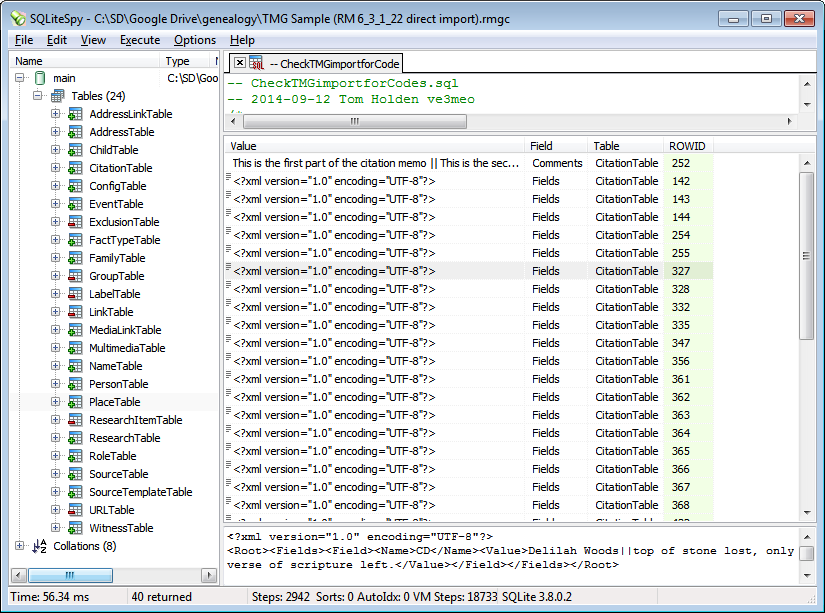 Screenshot of results of query on the TMG Sample Project imported into RootsMagic. The full content of the highlighted row is displayed at the bottom, revealing the "||" separator in the Citation Detail (CD) field.
Download 2
CheckTMGimportforCodes  2014-09-25 rev to include Event custom sentences; exclude blank values for speedup
This query requires the REGEXP function, available in SQLiteSpy but not the free version of SQLite Expert. If this is your first time using SQLite on a RootsMagic database, please visit the Home page and read How to query RootsMagic and SQLite Managers.